Self-propelled sprayer MAF 4200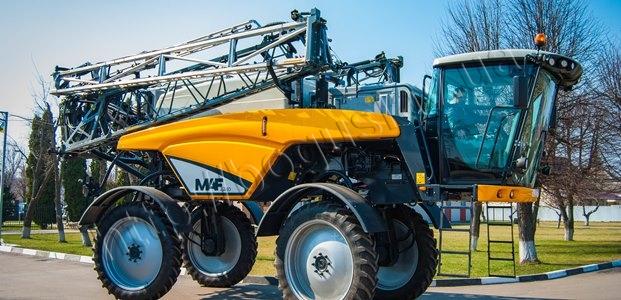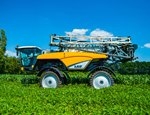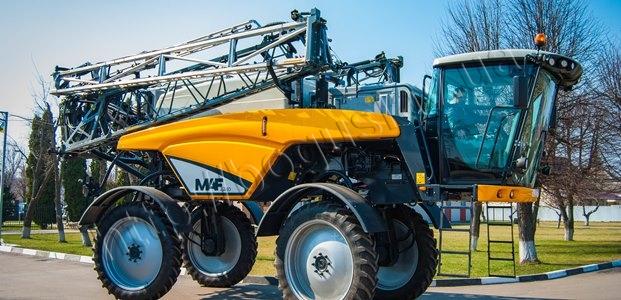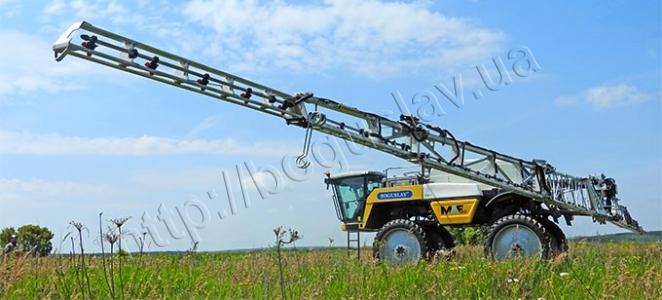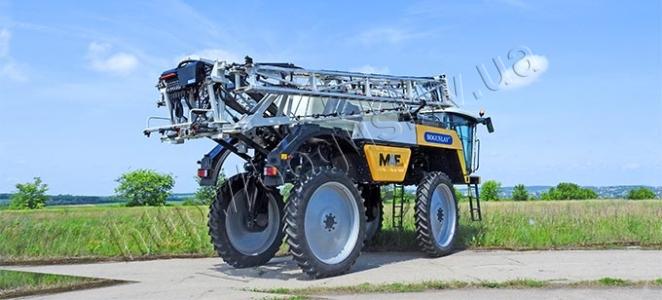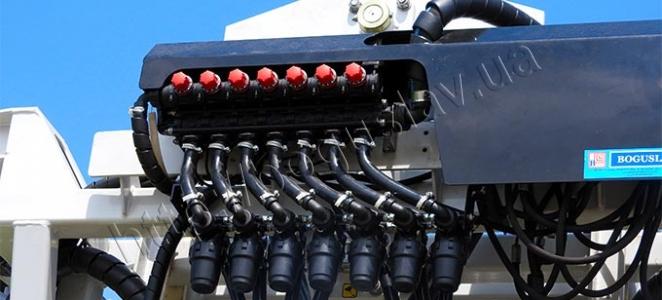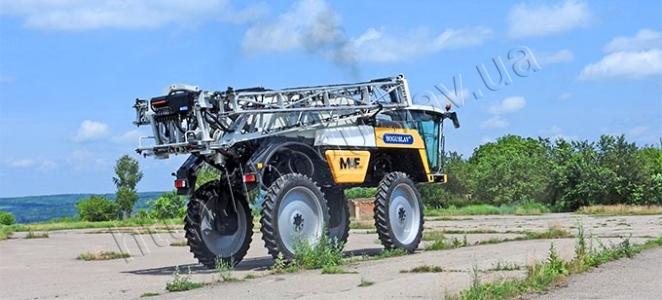 Designed for large farms, it is a thoroughbred breed, running to achieve important goals. The MAF 4200 is designed with a large load capacity for wide plains, where it can express the best of the characteristics in terms of speed, efficiency and performance.
| | |
| --- | --- |
| Boomwidth, m | 28/32/36 |
| Tank capacity, m3 | 4.6 |
| Engine of Perkins, hp. | 238 |
| Speed (max), km/h | 38 |
| Volumetric pump flow, m3/h | 22.8 |
| Tires | 320/90R54 |
| Ground clearance, mm | 1700 |
| Adjustment of track range,mm | 2250...2950 |
| Weight, t | 10.2 |
| Length, mm | 9100 |
| Turning radius, m | 5.9 |
Self-propelled sprayer MAF 4200
The independence of hydropneumatic suspension on each of the front and rear wheels makes it possible to move at speeds up to 38 km/h.The functioning of dampers is stable, thanks to the powerful battery of the nitrogen type.
The ground clearance (1.7 m) and the ability to adjust the width of the track make it possible to use the unit for the treatment of technical purpose crops (sunflower, rapeseed).
The transmission of the hydraulic type is produced using high-quality components that are produced by well-known companies (Sauer, Poclain).This enables a smooth speed change.
The fiberglass tank for the working fluid has a volume of 4600 liters.
The highly reliable diesel power unit produced by Perkins Company has an output power of 238 hp.
The spacious cabin of the ClaasCompany, as well as installed inside a charcoal filter, a pneumatic seat and an air conditioning provide the operator with a high level of comfort and safety. The cabin is positioned on the sprayer to ensure the best panoramic view and the ease of control over all work processes.
There is a special hydraulics to change the track width in the range of 2250...2950 mm. This broadens the application possibilities of the unit for different types of crops.
Steering is supported by three operating modes: crab (moving on inclined surfaces), two-wheeled (for roads), four-wheel (when turning).
There is a 4-speed gearbox.
In addition, the unit is equipped with an automatic parking brake.
Special lighting is provided for the movement and operation of the sprayer in the dark.
The unit is equipped with a mixer of 60 liters that make it possible to prepare the mother liquor and rinse the cans right on the spot.
The volumetric design of the hydraulic boom is equipped with a lifting mechanism that have a parallelogram design and nitrogen accumulators. The nozzles are fully protected.
On-board computer Bravo 400S with integrated GPS navigator, allows the operator to control the working process from the cabin (the display is mounted inside). In addition, the computer in auto mode keeps the desired application rate, regardless of the sprayer move speed. Moreover, if the boom section come on already treated area, Bravo 400S computer automatically cuts off the supply of working fluid to them.


Products
Products and assemblies