Ace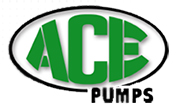 Ace Pump Corporation has provided pumping solutions for the chemical application, off-highway equipment, air conditioning, and refrigeration markets since 1945. These varied applications have required Ace to successfully overcome a wide range of engineering challenges.
Ace developed a complete range of products for the agricultural and off-highway equipment markets that do not require the electrical grid for operation. The pumps are found serving a variety of functions in industry today including: crop sprayers, concrete trucks, asphalt milling machines, anti-icing trucks, turf sprayers, and more.
Our years of engineering experience with cutting edge development processes make Ace your best choice for custom product development. Our product design employs the latest in 3-D modeling and rapid prototyping tools, which insure design accuracy and efficiency and minimize lead times. Tell us your needs and we can design a custom pump solution to meet them.
There have been considerable technological advances since Ace was founded in 1945, but we made sure not to change the best things. We started with a dedication to customer service and we maintain that focus today. No matter how "big" we've gotten, we have never let go of that "small company idea" of listening to customers and providing better answers to their needs. Our management, and our hands-on expertise, remain accessible for you
Products
Products and assemblies