ODYSSEY 2000-18 (OP-2000, OPK-2000SHPS)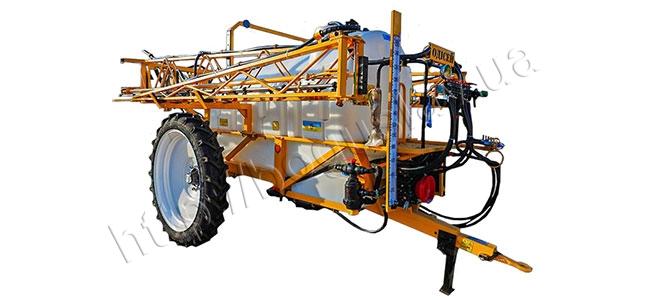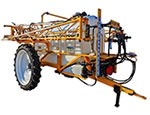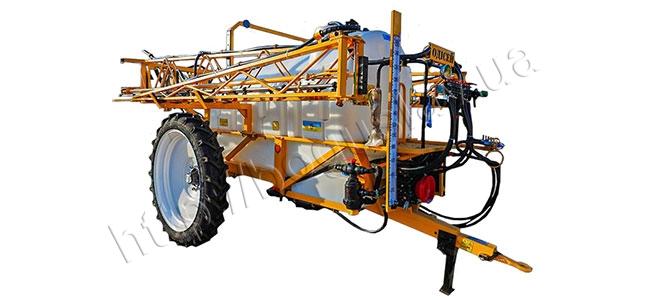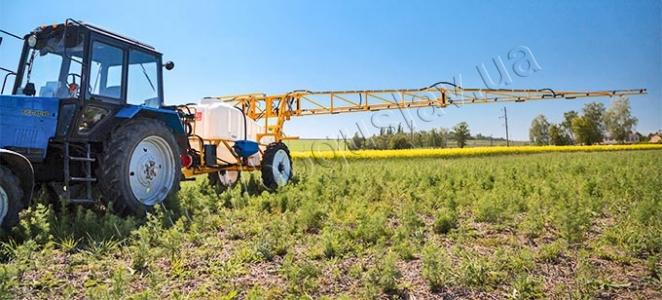 The design of the sprayer allows you to adjust the height of the hydraulic boom (range 0,6-1,8 m) directly during the movement of the unit. Also, it is lightweight and maneuverable, thanks to the small tank and a relatively short boom.
| | |
| --- | --- |
| Hydraulic mechanism of | folding / unfolding the boom |
| Boom width, m | 18 |
| Plastic tank capacity, m3 | 2 |
| Volumetric pump flow, m3/h | 8.7 |
| Tires | 9.5R32 |
| Tracking range, m | 1.4 -2.1 |
| Ground clearance, mm | 550 |
| Weight of unit, t | 1.3 |
| Adjustment of boom height installation, m | 0.7-1.85 |
| Cardan shaft L = 1010 mm, manufacturer/model | "Weasler"/AB1 |
ODYSSEY 2000-18 (OP-2000, OPK-2000SHPS)
This trailed sprayer combines the quality, reliability and usability.
The sprayer is a good direction of soviet sprayers model OP-2000.
There are several key features that make processing of crops by using this model of sprayer very convenient.
The first feature - the option of using the parallelogram suspension and two hydraulic cylinders directly during processing to smoothly adjust the height of the hydraulic boom from the ground in the range of 0.7 m to 1.85 m.
The second feature - the ability to stepless adjust the sprayer track width in a range from 1.4 m to 2.1 m.
The third feature - damping mechanisms and protection from deviations in movement and collision with an obstacle that is equipped with a hydraulic boom of the unit. The pendulum mechanism stabilizes its position, while a special system extinguishes dynamic stresses (vibrations) and the protection mechanism returns to its former position when the impact on the obstacle resulted to deviation the rods in a horizontal plane.
The fourth feature - a hydraulic mechanism for unfolding the boom from the transport to working position and fold back.
Durability and reliability of the sprayer are provided by technologies that are used in manufacturing, and by high-quality components of the American and European production.
Metal elements of the hydraulic rods and the frame of the sprayer when the production was first treated by sandblasting and then painted a powdery polymer. This gives them excellent corrosion resistance.
Chassis unit is equipped with a cardan shaft of the Dutch producer "Weasler".
Spraying system is equipped with high-performance pump of manufacturer "Annovi Reverberi" (Italy) and the nozzles of manufacturer "Lechler" (Germany).
Also, according to the customer the possibility of the sprayer can be significantly enhanced through its optional equipment of controlling computer "Bravo 180" of Italian manufacturer "ARAG", GPS navigator of US manufacturer "RAVEN" (model "Cruizer II"), and a mixer for 20 liters, equipped with washing cans device.
Set of two mixers equipped with durable ceramic tips mounted in the tank of the sprayer, enables to maintain a constant concentration of the working mixture.
In addition, it is worth noting the good passability of the unit that provides by high ground clearance (550 mm) as well as sprayers OP-2000.
Автор: Виталий Серый
Computer, manufacturer/model: "ARAG"/"Bravo 180"
GPS navigator, manufacturer/model: "RAVEN"/"Cruizer II"
Mixer, L: 20 or 28 (+ cans washing device)
Products
Products and assemblies