mixer Boguslav 28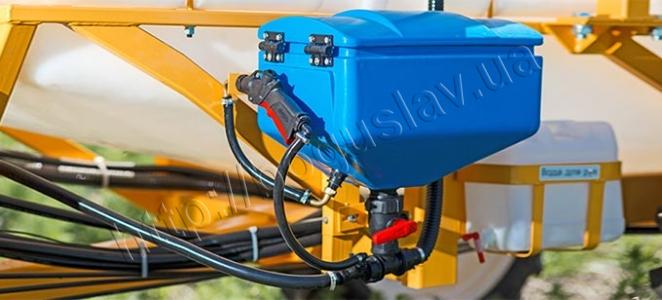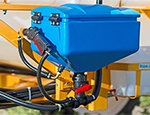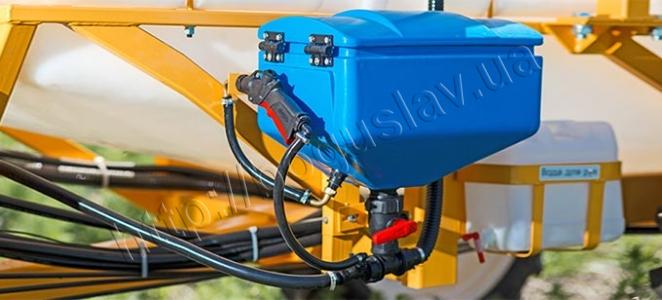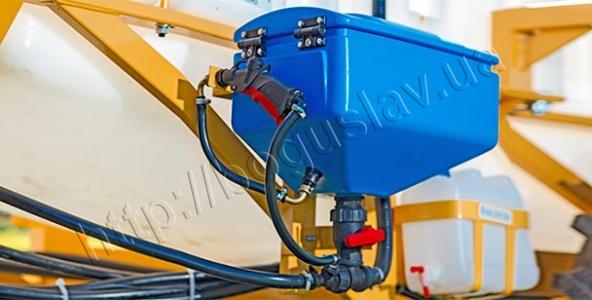 Additional equipment for the preparation of working solution that works by the principle of ejection.
| | |
| --- | --- |
| Capacity | 28 liters. |
| Viewing window | No. |
| Used types of preparations | dry, granular, liquid |
Mixer of a working liquid Boguslav 28
The mixer of a working liquid is intended for fast and quality preparation of mother liquors for filling the sprayers. This equipment prevents foaming in the sprayer tank and also reduces the loss of funds by washing the containers from the preparations for the full use of expensive pesticides.
During the introduction of plant protection products directly into the main tank of the sprayer occurs uncontrolled foaming. As a result, the operator must spend time to wait for the foam settles down to finish the filling. And any agrarian knows the precious of every minute, especially in the spring. Using a mixer of working fluid, you will successfully cope with this problem because using of this equipment gets you full control over the foaming and the quality of the resulting working solution.
In the basis of the mixer's work applied the principle of ejection. Water under pressure is fed from the pump to the bottom of the mixer (injector tee), where a small amount of the preparation is taken from the mixer and fed to the sprayer tank. This mixing process allows to quickly prepare the sprayer for operation.
Also, there is no need to lift heavy cans with chemical preparations to the neck of the tank, that is at a rather high altitude. This saves time for filling and minimizes operator contact with unsafe chemicals. All that the operator needs to do is to pour or fill the preparation into the mixer's tank, press the lever and wait for the preparation mixing with water and be fed into the main tank.
The mixer "Boguslav 28" of domestic production consists of a polyethylene tank for 28 liters, a container wash unit and a frame for attaching the mixer to the sprayer. A capacious tank made of strong polyethylene has a long service life, on condition of observing the simple exploitation regulations. In the case of use liquid pesticides and it is necessary to rinse out a canister, it is possible to use a canister rinsing device that will allow using expensive pesticides to the last drop.
Автор: Александр Малый
Products
Products and assemblies