Feeder equipment set ЕКО-600-5,4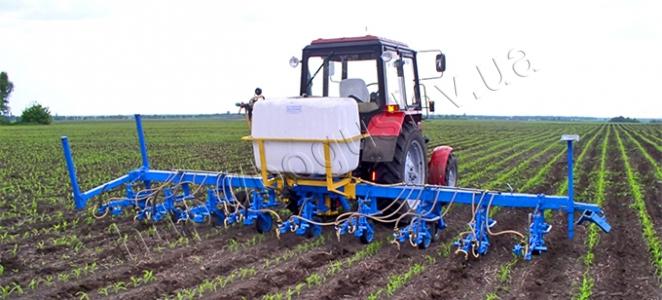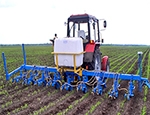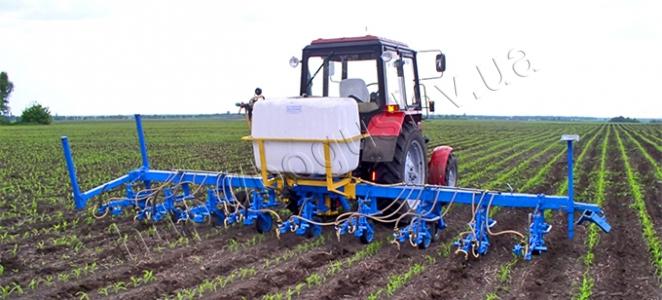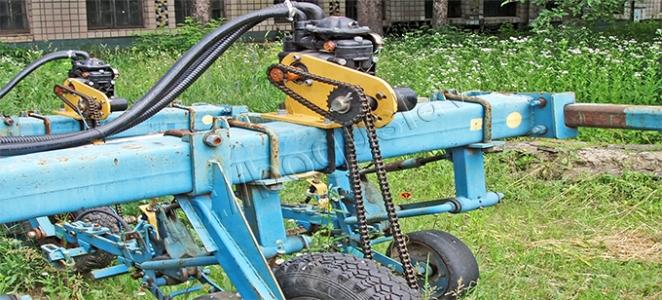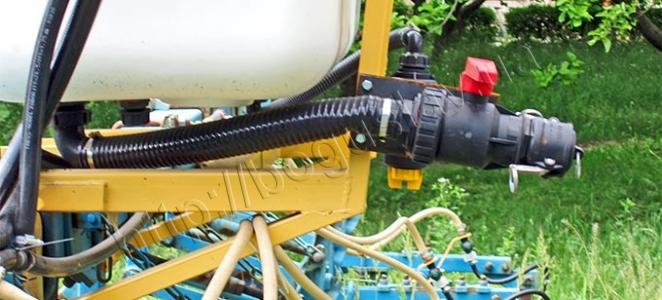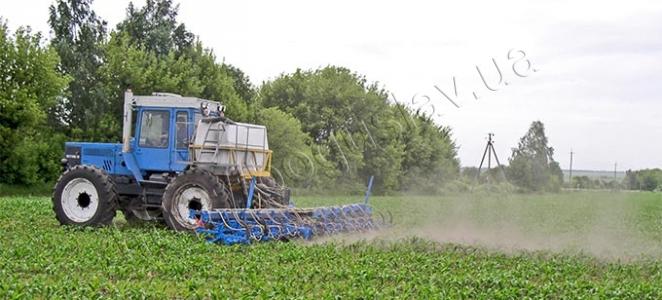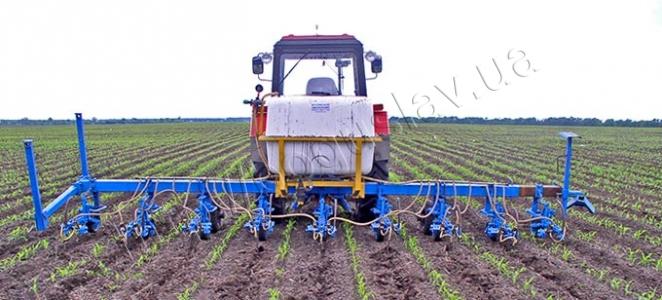 Modification of plant-feeder that can be used to produce tape treatment plant by fertilizers. Also used to feed crops with liquid fertilizer during cultivation work. It has its own tank for fertilizers with a capacity of 600 liters.
| | |
| --- | --- |
| Processing width, m | depends on the seeders width (cultivator) |
| Fertilizer tank capacity, l | 600 |
| Processing area, ha/1h oper.time to 1m of seeders width (cultivator) | 0.4 – 0.8 |
| Consumption of fertilizers, l/ha | 33-850 |
| Speed range with fertilizer treatment, km/h | 4-8 |
| Membrane-piston | pump |
| Volumetric pump flow, l/min | 70 |
| | |
Mounted Sprayer-Plant-Feeder
ECO series, models 600-4,2L, 600-5,4L and 600-5,6L
Those series of plant-feeders used to make the tape treatment of field crops with pesticides. In addition, with their help it is possible to carry out feeding liquid fertilizer to crops during tilled cultivation.
Mounted plant-feeders design involves their installation on the unit, consisting of a tractor and pull tape cultivator.
Using a special mechanical regulator may set the norms of fertilizer supply from the fertilizer tank to the sections of the sprayer (seeder). Excess fertilizer redirected back into the tank. To the capacity of the fertilizer exactly match the norm at any speed of unit, the supply pump is driven by the support wheel of cultivator. In addition, the pump drive can be carried out from the tractor PTO.
The manufacturer have been used high quality components and materials to ensure the high quality of fertilizer treatment, durability, efficiency in the consumption of pesticides, as well as the reliability and safety of sprayers. The materials making up the components of the sprayer-plant-feeders systems are resistant to ammonia compounds. Fertilizer tank is made of plastic.
The paints coating of metal structures performed by a special technology that allows design elements to successfully withstand the impact of corrosion and other destructive environmental influences for a long time.
An additional convenience in the operation of plant-feeder is possible to install the tank on any of the elements of the unit (tractor, tiller, seeder).
The difference between the models of described here sprayer-plant-feeders of series ECO is only working width of the cultivator (seeder) and, accordingly, the number of working bodies of each model.
It is important to note that the height of the installation each nozzle directly affects the width of the tape that it is processed. However, it should be noted that the loss of sprayed fertilizer from the wind blowing would be as smaller as the dispenser is below. In this regard, the most appropriate is the installation of nozzles at a distance not more than 25cm from the surface treatment. To do this, the system is equipped with a narrowed torch spraying nozzles of 90°. This allows you to narrow ribbon of liquid spray to the optimal width.
Автор: Александр Малый
Products
Products and assemblies