Boguslavskaya agricultural machinery at the first International Field Day 2017
ЧАО "Богуславская сельхозтехника" примет участие в первом "Международном дне поля 2017", который будет проходить в Украине с 21 по 23 июня 2017 года. Организовали мероприятие DLG Ukraine (Немецкое сельскохозяйственное общество), Немецко-Украинский аграрный демонстрационный и учебный центр и УкрНИИПИТ им. Л. Погорелого.
PJSC "Boguslavskaya agricultural machinery" will participate in the first "International Field Day 2017", which will be held in Ukraine from June 21 to 23, 2017. Organized the event DLG Ukraine (German Agricultural Society), the German-Ukrainian Agrarian Demonstration and Training Center and UkrNIIPIT them. L. Pogorelogo.

A series of events will take place here, including a presentation of equipment (more than 120 samples of modern agricultural equipment are planned to be displayed by domestic and foreign manufacturers, including demonstration of equipment in the field), an exhibition of goods and services for farmers, as well as master classes and information seminars on introduction of innovative technologies in the country's agricultural sector.

By the way, 22 domestic agricultural machinery plants are participating here, as well as five innovative technologies for growing crops. You can also get acquainted with more than sixty demonstration plots of promising hybrids and varieties, as well as means of plant protection and recharge.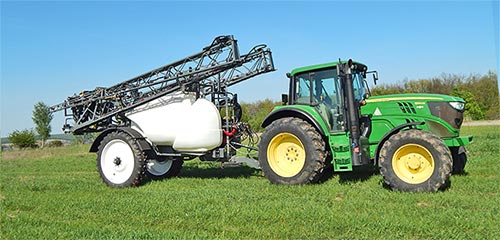 The venue of the International Field Days Ukraine 2017 was selected Doslidnitskoye, Vasylkivsky district of the Kiev region, and the Field Day will be held on the basis of the Ukrainian Research Institute for Forecasting and Testing Machinery and Technologies for Agricultural Production (UkrNIIPIT) them. Leonid Pogorelogo. Here, the visitors will be presented with a sprayer from our new ATLANT 4200-28 line.
Among the visitors of the exposition are expected teachers and students of agricultural universities), farmers and other interested persons. It is expected that the number of daily participants in Field Day events will be about 500-600 people. By the way, on June 23 it is planned to show agricultural equipment in work specifically for students of mechanic-technical and agrobiological specialties of the agricultural profile.

This year, IFWexpoHeidelberg and the Agrarian Demonstration and Training Center took over the organization of the event. The latter was created within the framework of the Ukrainian-German cooperative project with the support of the Federal Ministry of Food and Agriculture of Germany, the Ministry of Education and Science of Ukraine and the Ministry of Agrarian Policy and Food of Ukraine.

"DLG Field Days" is actually a place for open communication between expert partners and representatives of manufacturers of solutions for crop production and plant protection, seed and fertilizer, and plant protection products.

Come to our exposition on June 21-23 from 8:00 to 16:00.
Products
Products and assemblies